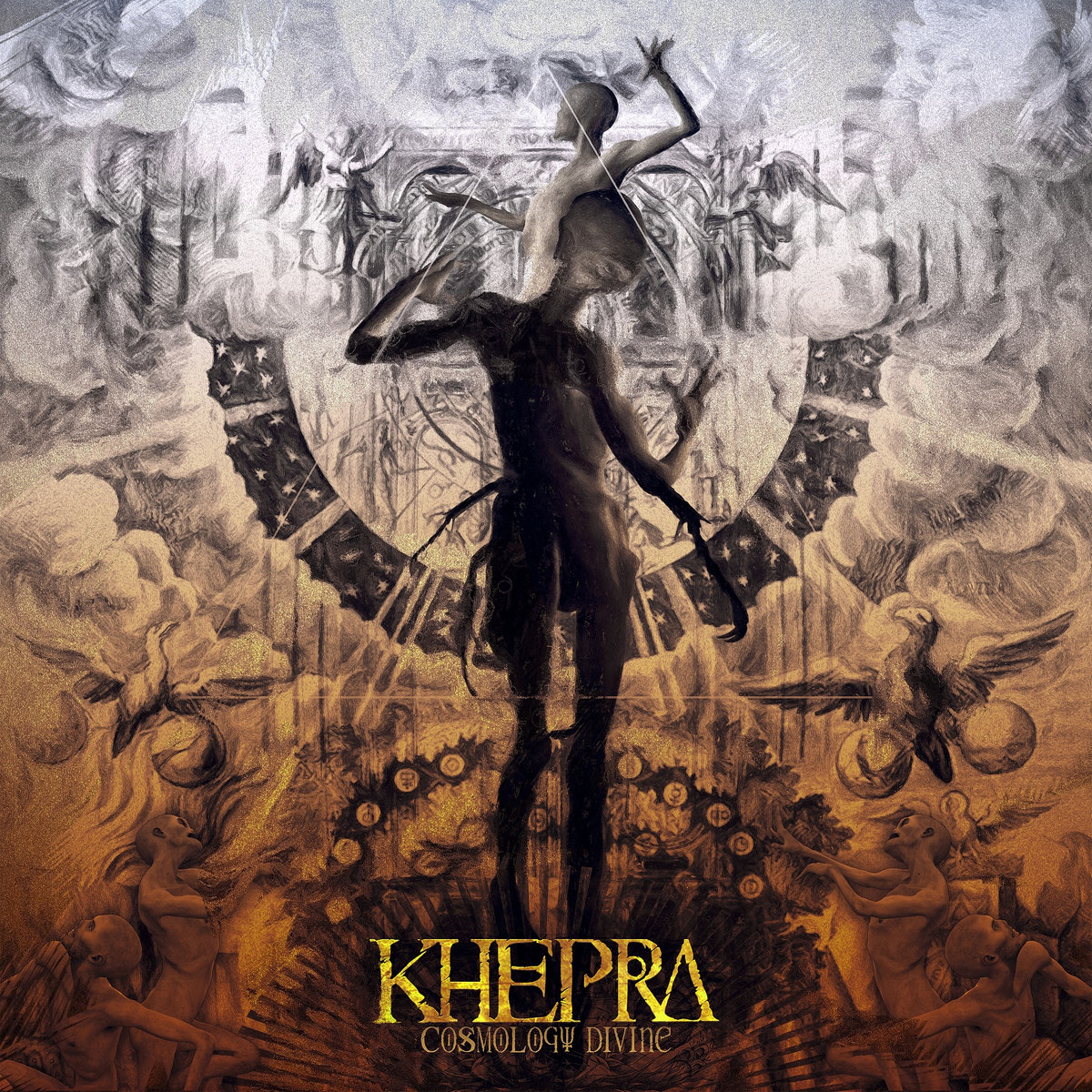 Khepra was formed in 2009 under the name Gurz by Dou Kalender and Kenan Turandar. Since its formation, the band has released one EP in 2012 titled "Sons of Earth and Sky", the EP received many positive comments worldwide and later went on to perform in several European countries.
The sound of the band evolved into having more middle eastern/Anatolian influences and got more aggressive as well. With the new style, they changed the band name to KHEPRA. They have recorded their first full length album "Cosmology Divine" in 2015, the album was mixed and mastered by producer Logan Mader.
Khepra are a band from Turkey that plays a symphonic and melodic mixture of black, death and folk metal, they released their debut album "Cosmology Divine" September 10th, 2016 under the label, Naturmacht /Rain Without End Records.
The debut album of turkish Khepra is a wonderful blend of melodic death metal with black, symphonic and etchnical elements and delivers its very own listening experience. Everything is worked out very professional and with love for detail. The lyrics are as varied as the music: Science combined with Folklore and Myth from the realm of the East.
A very epic and symphonic sound starts off the album and also mixes in with the heavier sections of the music while acoustic guitars can also be heard at times and when guitar solos and leads are utilized they are d one in a very melodic fashion and when the music speeds up a great amount of blast beats can be heard.
Most of the vocals are black metal screams while clean singing can also be heard at times and there are also some female vocals in some parts of t he songs and the music also mixes in a lot of ethnic folk music elements which also shows different types of musical instruments being added onto the recording.
Throughout the recording there is a great mixture of slow,
mid paced and fast parts and some of the riffs also bring in a more melodic death metal style and you can also hear traces of Arabian and Oriental music in most of the tracks and as the album progresses some of the riffing starts getting more thrash influenced and one of the tracks is very long and epic in length and there is also a brief use of spoken word samples.
Plunged conceptually a mixture of folklore, myth and oriental heritage, each track of this "Cosmology Divine " is an earthly journey that makes us fly to the high levels of cosmic spirituality through an elegant combination of melodic death metal and ethnic sonorities. - ultraje.pt (Rating 8.5/10)
Basically it's melodic death metal with oriental influences. Raw vocals, not as low as true death metal, no shrieks like you find in black metal, no clean vocals like in power metal. Just very powerful, gruff but understandable. The folky side is found within the melodies and the use of oriental and acoustic sounds. Khepra is original enough to stand out among all the other competitors. - Folk-metal.nl (Rating 9.5/10)
the sound of Khepra is sufficiently personal and full of inventiveness and, all things considered. In essence, Divine Cosmology is a work not to be missed for any reason, especially if you appreciate the basic these particular sounds. - metaleyes.iyezine (Rating 8/10)
Khepra have created a debut that knows how to appeal in all matters. The songs on "Cosmology Divine" are never too long, despite the many influences consistent and simple fun. The compositional talent of these two musicians is by the impeccable production in nothing, so there is virtually nothing to complain about. Who wants to hear Metal and symphonic Middle Eastern music in perfect balance, should use that disk not miss and absolutely essential to keep in mind Khepra. - metal1.info (Rating 8.5/10)
Kephra plays a musical style that takes symphonic black metal and melodic death metal and mixes it with ethnic folk music to create a sound of their own, the production sounds very professional while the lyrics cover Cosmology, Occultism, Mythologies, History and Religion themes. In my opinion Kephra are a very great sounding symphonic and melodic mixture of black, death and folk metal and if you are a fan of those musical genres, you should check out this band. - A Diferent Shade of Black Metalzine (Rating 8.5/10)
Formed In: 2015
Status: Active
Years Active: 2009-2015 (as Gürz), 2015-Present
LINE UP
Dou Kalender - Vocals & Guitars & Orchestral
Tolga Köker - Guitars
Kenan Turandar - Bass
Erce Arslan – Drums
Country of Origin: Turkey
Location: Istanbul
Genre: Symphonic Death/Folk Metal
Current Label: Naturmacht / Rain Without End Records
Homepage: http://khepraofficial.com
Facebook: https://www.facebook.com/khepraofficial
Bandcamp: http://khepraofficial.bandcamp.com
Instagram: http://www.instagram.com/khepraofficial
YouTube: http://www.youtube.com/channel/UCpVrXKd8d3aadAkR0Gqny2Q
Cosmology Divine (Full-Length Album - 2016)
Released September 10, 2016
Credits
Erce Arslan - Recording, Engineering
Barış Baykal - Recording, Engineering
Doğukan Kalender - Recording, Pre-mixing (Orchestrations)
Logan Mader - Mixing, Mastering
Aybars Altay - Cover art
Tolga Köker - Design
Guest Musicians
Murat Ilkan - Vocals (clean) (track 1)
Özgür Özkan - Vocals (clean) (track 2)
Onur Turgut - Vocals (choirs) (tracks 1, 2, 5), Ney (track 10)
Uğur Yılmaz - Vocals (choirs: baritone, bass) (tracks 1, 2, 5, 8, 9)
Hakan Çiftçioğlu - Vocals (choirs: bass) (tracks 1, 5)
Melis Eser - Vocals (soprano) (track 1)
M.Cantuğ Ağıç - Guitars (add. lead) (tracks 1, 2)
Onur Narin - Guitars (add. lead, add. acoustic) (tracks 4, 7, 9)
Ersin Baykal - Kemane (tracks 2, 4), Bağlama (track 1), Oud (track 3)
Sühendan Çetin - Ney (tracks 3, 4)
Ediz Aydın - Ney (track 4)
Tolga Şekerci - Qanun (tracks 2, 7)
Erkan Yalın - Bendir (tracks 1, 4)
Özlem Yıldırım - Cello (track 5)
Avaliable At: