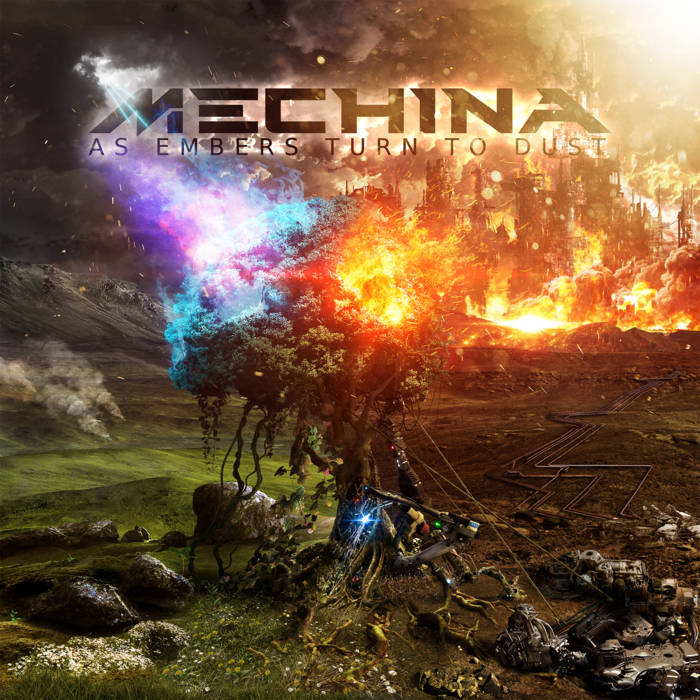 BIOGRAPHY
Mechina are an industrial groove metal sort of band. I say "sort of" because that doesn't really begin to describe their sound. It is a mix of symphonic, science fiction, death metal, groove metal, electronic, and… just that nameless unique quality that many bands lack.
The band has defied the norm of metal and raised the standard for musical originality throughout the Midwest. With the mixture of precision inspired metal, symphonic melodies, creative and unorthodox lyrical content, and a plethora of intriguing yet intense atmospheres, Mechina has created a unique and unmatched presence in and around the Chicago area. Members reside out of Naperville, Geneva and Batavia, IL.
The band has two members: David Holch and Joe Tiberi. The wall of sound they create (mixing symphonic, electronic, and traditional instruments) is primarily created on the computer. For this reason, Mechina is not a touring band.
Even without the scifi-themed lyrics, Mechina's mixing of symphonies with electronic and heavy metal sounds has led some fans to refer to their style of music as "Mass Effect Metal", a reference to the series of video games.
Mechina are a band whose growth has been one of the most interesting to watch over the past few years. Few bands have been quite as ambitious as they have been with their music. Few have completely ignored whether or not they were going to be successful, and just went big anyway, but that is exactly what Mechina have done during their time as artists.
Starting out as a full band before eventually becoming the studio project of a couple of producers in the Chicago area, Mechina have already banged out a whole arc of albums — a conceptual trilogy told over three full discs and a smattering of singles — that have archived a whole universe constantly at war, ending with planets left barren and whole populations destroyed, played out over the soundtrack of an industrial/symphonic death band with a taste for eight-and-up-string poly-rhythmic guitar playing.
Over time, the band's production has grown leaps and bounds, and as they've adopted characters into their story and adapted a new vocalist into the fold, they've created enough lore in their universe that someone actually took the time out of their day to try and establish a wiki site to keep track of all of it, one that I've already used liberally. While we haven't quite hit Bal-Sagoth levels of craziness, I imagine Mechina could be reaching that point soon enough with their sci-fi, planet-destroying antics.
The band's music is very similar to the early Fear Factory, but what then is very different: it bombed in every respect, all forms of emotions creates and expands a new era of modern industrial metal. Yet it is inspirational rhythms, orchestral music and non-standard creative lyrical content, as well as many intriguing and intense passages in the parties. The atmosphere is obtained simply breathtaking!
For the last 5 years, one band has defied the norm of metal and continued the progression of musical originality throughout the Midwest. Music that bombards every sense, creates every form of emotion, and reinforces the new age of modern metal. With the mixture of precision inspired rhythms, orchestral melodies, creative and unorthodox lyrical content, and a plethora of intriguing and intense atmospheres, Mechina has created a unique presence in the future of metal.
They have their own original and unique style of playing music in this genre, so it is recommended to listen to them all to a single industrial fans.
On January 1st, 2017 they released their seventh full length album, As Embers Turn to Dust. This album concludes the first half of a continuous story, started with our 2011 release of Conqueror.
The story told through Mechina's albums is titled "As Embers Turn to Dust". It is a century- and planetary-spanning story of man-made gods and city-sized machines called Titans. Mechina releases the story as full-length albums with a "single" between each album. These singles fill in missing pieces of the story and bridge the gap between albums. Mechina has a habit of releasing full-length albums on January 1 of each year and a single sometime during the summer.
Formed in: 2004
Status: Active
Years Active: 2004-Present
LINE UP
Joe Tiberi

Guitars, Programming (2004-present)
David Holch

Vocals (2004-present)
Mel Rose - Vocals
Country of origin: United States
Location: Batavia, Illinois
Genre: Symphonic/Industrial Death Metal
Current label: Unsigned/Independent
Youtube: http://www.youtube.com/user/MechinaMusic
Myspace: https://myspace.com/mechina
Site:

http://www.mechinamusic.com
Itunes:

https://itunes.apple.com/ru/artist/id209377965
Facebook: https://www.facebook.com/pages/Mechina/114376106370
VK: https://vk.com/club15319796
Twitter: https://twitter.com/mechinamusic
Creative producers: Joe Tiberi and David Holch
Contact: Joey Rose (Manager)
Phone:

(630) 768-5868
Press Contact/ Booking: Joe Tiberi [

apothicajoe@gmail.com

]
As Embers Turn to Dust
(Full-Length Album - 2017)
Released: January 1st, 2017
Buy The Album At: