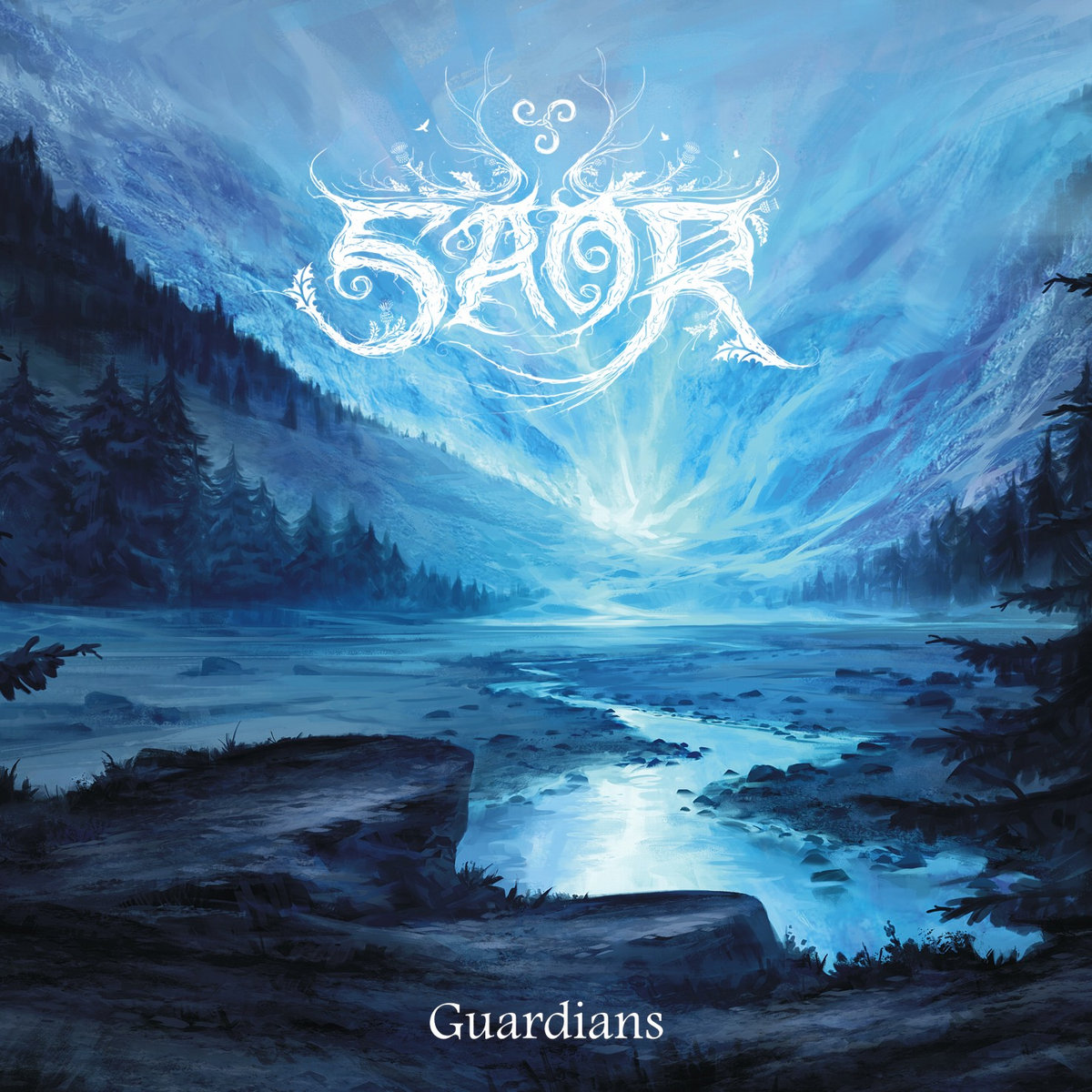 "Guardians" is the much anticipated third full-length album from one-man Scottish Atmospheric Celtic Metal project Saor. Two years after the release of his highly successful sophomore album "Aura" (2014), Andy Marshall returns with his unique brand of beautifully crafted, epic Folk Black Metal steeped in folklore.
Recorded over two years in Cairndow and the Isle of Skye, the new release contains five majestic new tracks with a playing time of just under an hour. Musically it carries on where "Aura" left off, weaving together intelligently-crafted guitar riffs, soaring folk melodies and stirring string sections, taking you on a journey throughout the majestic, mist-covered Highland landscapes. As well as being inspired by nature, the album takes influence from various traditional Scottish poems which cover a range of themes such as ancient battles, cultural heritage and sorrow.
On this new release, Andy has worked alongside a host of incredibly talented guest musicians from
around the world including Bryan Hamilton (Cnoc An Tursa) on drums, Meri Tadic (Ex-Elueviete, Irij) on fiddle, John Becker (Austaras) on strings and Kevin Murphy on bagpipes.
"Guardians" is essential for Atmospheric Metal fans and those craving more emotional depth in their Folk/Black Metal.
The band do Atmospheric music from Scotland inspired by Highland nature/landscapes, heritage and traditional poetry.
Saor means "Free" in Gaelic. The name refers to "Saor Alba" meaning "Free Scotland", a phrase commonly used by the Scottish Independence movement. Saor played a few live shows between 2015 and 2016. It is now a studio-only project and there will not be any more live shows as of the aforementioned date.
The CD comes as collectors edition in digipack with 12-page booklet, limited to 1000 copies, and as
regular edition in jewel case. The DLP will be released in early 2017. Release date and details tba.
2. The Declaration (10:31)
5. Tears Of A Nation (11:18)
The album will be released on November 11, 2016, but they already released 2 singles extracted from the album.
Guardians (Single - 2016)
The Declaration (Single - 2016)
Pre-Order The Album At:
All music composed and performed by Andy Marshall unless stated below.
Session Musicians:
Bryan Hamilton - Drums
Reni McDonald Hill - Bodhrán on "The Declaration"
Kevin Murphy - Highland bagpipes
Production:
Vocals and drums recorded by Reni McDonald Hill at The Cottage Studio, Cairndow, Scotland.
Guitars recorded by Martyn Moffat at Seann Druim Cottage, Isle of Skye, Scotland.
Strings recorded and guitars re-amped by Spenser Morris at Decade Music studio, Chicago, US.
Fiddle recorded by Meri Tadić.
Highland bagpipes recorded by Kevin Murphy.
Artwork:
Artwork edited by Northern Silence.
"You'll notice throughout this album that musically Andy is constantly upping his game from start to finish, there's moments on here which will leave you breathless and you won't even have finished taking those in when the next twist comes and elevates things even further. [...] By the time the fourth song "Hearth" plays you will without doubt be fully immersed in the rich and vivid atmosphere Saor has created and the album still continues to bloom, the music at this point becoming yet more intricate and complex and new ingredients still coming in [...] You're left wondering constantly just where Saor will take this next as you try to absorb everything that's going on, something which will take many, many listens to fully achieve. [...] [Tears of a Nation] is a final exclamation point, a culmination of a dazzling showcase of masterful composition and musicianship and by the time it's done I'm sure many a jaw will need picking up from the floor. [...] all in all it's safe to say that Saor has truly delivered a hugely impressive and absolutely essential album with this third effort. You've no doubt figured this out by now, Guardians left one hell of an impression here, and while I wish to take absolutely nothing away from Roots and Aura, Saor's previous works I get the feeling that this is the album Andy has wanted to make for a long time, possibly his entire life. This is the coming together of music, inspiration, culture and tradition, shaped and moulded by gifted hands into something that transcends all of those things, and it's an album which cannot fail to impress just about any fan of atmospheric metal in general. We already have some extremely strong players in this area anyway, now is certainly a good time to be into it and with Saor significantly raising the stakes it just got even better. We've been presented with an incredible listening experience here, one I can find very little to find fault with and as such I have no qualms in giving this the following mark."
10/10 -
blackphoenixrising.freeforums.org
"As on the previous albums have also all five tracks from" Guardians "with in section 11 of minutes of playing time over length. What others fail gloriously because running Saor in top form! [...] The combination of extremely atmospheric black metal and folk elements of course the Highlander comes here to Good. in this genre is dreamy guitar passages have felt ever drag on, without losing its charm. but the folk instruments bagpipes, flute, bodhran and violin (the latter, incidentally, partly recorded by the former Eluveitie- violinist Meri Tadic) were integrated, is quite big cinema! "14/15 - www.folkmetalaustria.wordpress.com
"It's been awhile since I've been completely blown away when I've heard an artist for the first time, and blown away is exactly what happened when I heard Scottish artist Saor. [...] Andy Marshall has created a beautiful sounding album with complex musical arrangements containing masterfully crafted guitar riffs melodiously accompanied by bagpipes, fiddles, and other stringed instruments plus pounding double bass drumming. [...] Guardians is surely not an album to miss if you're looking to hear something some fresh and original." -
www.metalmofos.com
"Fans of AGALLOCH, MOONSORROW or WINTERFYLLETH will gravitate to this music quickly if they haven't already done so by now. [...] This album was a great pleasure to hear. SAOR extends their talents far beyond mediocrity. It is mandatory to be moved by music this passionate and strong. The Scottish patriotism throughout this album calls us all back to the Highlands of Scotland despite where you may actually come from. There is something so mystical about that place that it leaves a stain on its countryside and people; People who can use this mysticism to enchant their music."
"Andrew crafted once again a masterpiece of Scottish Folkloric Black Metal that ends the same way it started, with bagpipes and guitar. While fans of his more aggressive previous releases might find it a little soft, this record demonstrates that Andrew can still change the formula and stay relevant to the genre. The folkloric instruments bring a whole new depth to his soundscape that wasn't as important as on this record and this is emphasized by the great composition of the songs."-
rastapunkreviews.blogspot.de
Formed In: 2013
Status: Active
Years Active: 2012-2013 (as Àrsaidh), 2013-Present
Andy Marshall - All instruments, Vocals
Country of Origin: United Kingdom
Location: Glasgow, Scotland
Genre: Atmospheric Folk/Black Metal
Current Label: Northern Silence Productions
Booking/Press Contact: fortriuprod@gmail.com
Official Website: www.saormusic.com
Facebook: http://www.facebook.com/saorofficial
Bandcamp: http://saor.bandcamp.com
VK: http://vk.com/saorofficial
Youtube: http://www.youtube.com/user/saormusic
Merch: https://saor.bandcamp.com/merch
Official Webstore: http://saor.bigcartel.com