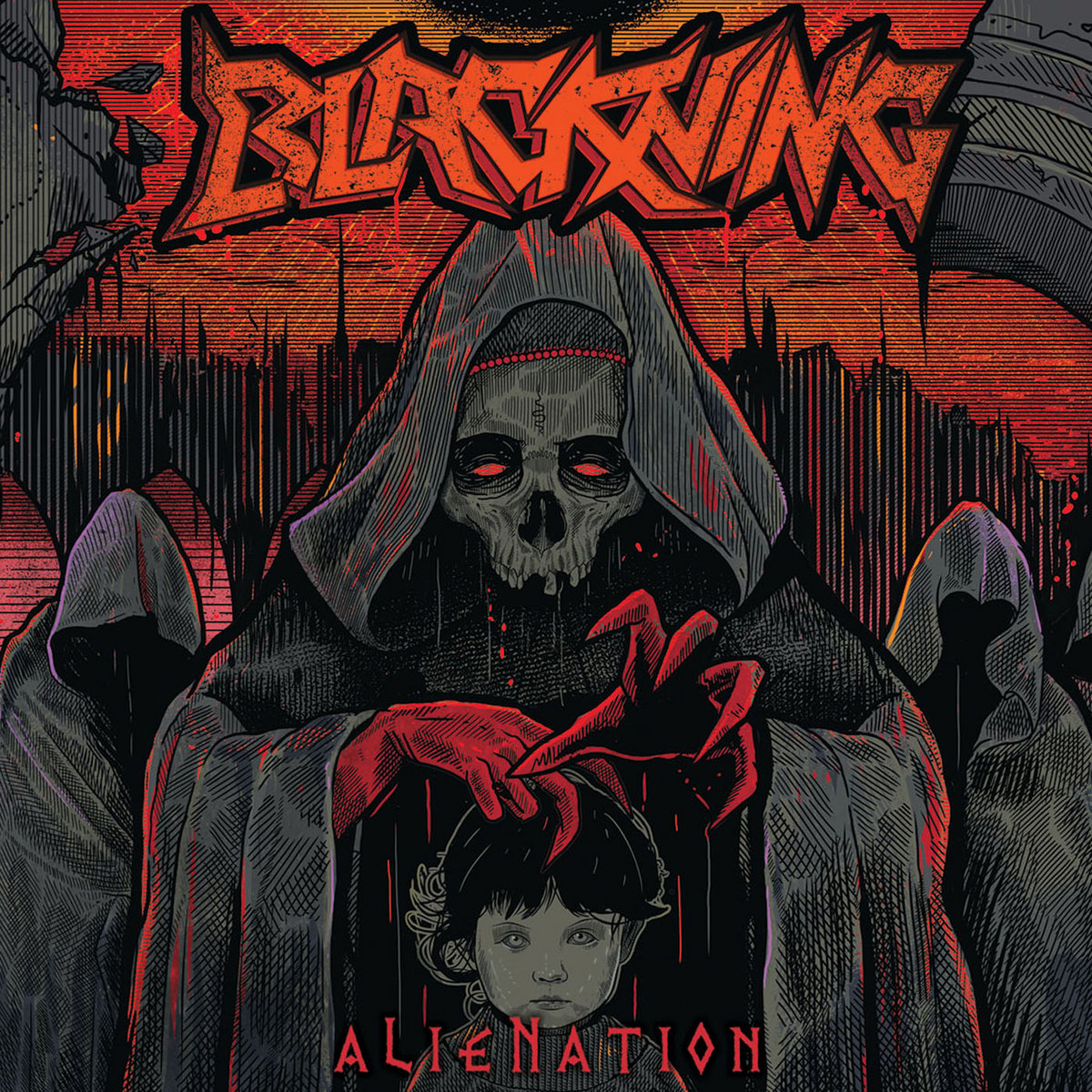 The Paulista trio Blackning, that after the great debut in "Order of Chaos", 2014, returns frothing fury with his Thrasher "Alienation", his new release, just came out.
"Alienation" is a continuation of the style that the band already showed in "Order of Chaos": Thrash aggressive Metal and well done, with good melodies, high-level changes of pace, and these more extreme touches here and there . The big difference is that all the previous harmonic and melodic structure of the band is more cohesive, stronger, and this makes the songs the trio will flow more spontaneously. Yes, Blackning climbed one step higher in quality.
The production and mixing was maded by Fabiano Penna (Rebaelliun Guitarist), while the mastering was maded by Neto Grous at Absolute Master Studio. And the result is a dry sound, aggressive and harsh, close to the sounds that the band play live, and that allows the listener to perceive not only the instrumental work of the band without difficulty. But even so it ceases to be heavy and impact.
Regarding the Artwork, the presentation of "Alienation" is from first quality. A three-page digipack allowed Marcus Zerma, from Black Blague Design that also did the art of "Order of Chaos", but this time, is more dense and with a clear meaning: manipulation.
Musically, the Blackning matured as the thrash metal band is much more cohesive and showing an interesting influence of Crossover and even HC at some points (as can be seen in the riffs of "Street Justice"), but the band is with musical arrangements most painstaking, and it is with a manicured aesthetics, without the band loses its natural aggressiveness. And join this special appearances by Fabiano Penna on backing vocals (which also programmed the samples), and additional vocals from André Alves (Statues On Fire Guitarist / Vocalist) in "Corporation" and Lohy Silveira (Rebaelliun Bassist / Vocalist) in "Devil's Child".
"If still being so young, the Blackening is able to make a record like "Alienation", the future reserved for them should be bright!" - Roadie Metal (Rating 10/10)
"AlieNation" is an excellent album, so hope you can buy it, but prepare your necks!" - Metal Temple (Rating Masterpiece)
"The Blackning is even a prodigy with talent, ability and experience to conquer and build a bright future. They will still leave many sore necks. Excellent, excellent!" - Underground Resistance Brasil
"It's great to be always seeing arise names that have the clout to take the name of Brazil in the Metal worldwide stage, and BLACKNING is a soldier more than qualified to carry this flag." - Polvorazine (Rating 9,5)
"If still being so young, the Blackening is able to make a record like "Alienation", the future reserved for them should be bright!"One of the great Thrash Metal albums of the year, no doubt!" - Metal Samsara (Rating 10/10)
Formed In: 2013
Status: Active
Years Active: 2013-present
LINE UP
Cléber Orsioli - Vocals And Guitar
Francisco Stanich Jr. - Bass And Backing Vocals
Elvis Santos - Drums And Backing Vocals
Country of Origin: Brazil
Location: Santo André, São Paulo
Genre: Thrash Metal
Current Label: Vingança Music (Brazil)// Hecatombe Records (Europe)
Booking/Press Contact: blackningthrash@gmail.com
Phone:

+55 11 98607-8281
Official Website: http://www.blackning.com
Facebook: https://www.facebook.com/blackningmetal
Bandcamp: http://blackning.bandcamp.com
Soundcloud: http://www.soundcloud.com/blackning
Youtube: https://www.youtube.com/blackningmetal
Google Plus: https://plus.google.com/+blackningmetal
Merch: http://www.blackningstore.com
ALieNation (Full-Length Album - 2016)
Released June 1, 2016
TECHNICAL INFOS:
Album recorded between February and April/2016
Rhythm guitars, leads (Orsioli) and bass guitar recorded by Rodrigo D'Simi at CDC Studio (Santo Andre/SP - Brazil)
Guitar re-amp and leads (Penna) recorded by Fabiano Penna (El Diablo)
Vocals recorded by Danilo Pozzani (Acustica Studios)
Background vocals by Blackning & Fabiano Penna (recorded by Danilo Pozzani - Acustica Studios)
Additional vocals on "Corporation" by Andre Alves (Statues on Fire / Nitrominds / Musica Diablo) - Recorded by Danilo Pozzani (Acustica Studios)
Additional vocals on "Devil's Child" by Lohy Silveira (Rebaelliun) - Recorded by Rafael Siqueira at Estúdio Black (Porto Alegre/RS - Brazil)
All sample programming by Fabiano Penna (El Diablo)
All musics by Blackning
All lyrics by Blackning, except "Corporation" by Andre Alves