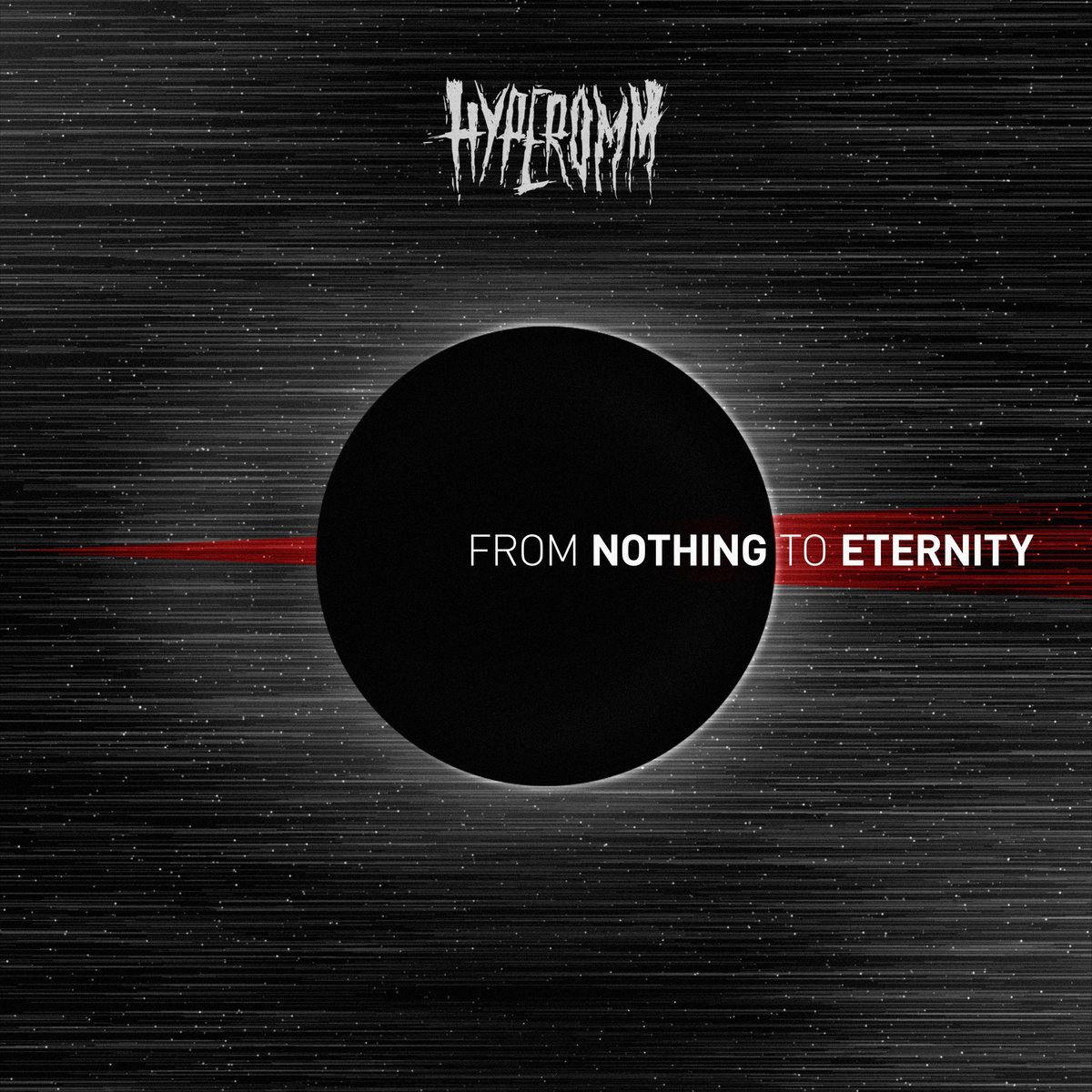 Hyperomm is a one man Melodic Death Metal band formed in 2016,
by Anton Trubin
that was born in 1986 in a small settlement near city of Barnaul, Siberia. He was a diligent kid, never had problems at school, and even the fact he got addicted to heavy metal music and guitar didn't turn me into crazy wild child. Honestly, he dosen't even remember, how old he was, when it happened to join his first band as a guitar player. Millions and millions goes a similar way. Inspiration came from popular heavy metal and punk rock bands. But then they kicked him out without any reason.
Since it war really long long time ago, maybe 1998, he still remember that insult. Right after shit happened, he took one acoustic guitar (he didn't have any electric for that time) and composed his first track. Gladly, world already had "Guitar Pro", so he wrote all the parts and arrangement. After it was done, he started to look for a musicians and people who like similar music and stuff,. He dosen't know what pushed him to compose, maybe that insult from the band, or irresistible pursuit of being a fucking rock star =)
So he got the musicians, and u know who they were? Yep. All that guys dropped me out before. Despite they think that they took him back, nope – don't give a fuck. He picked them on one by one. Anton first
showed that guitar pro song to
Artem Ustiantsev (Tom) that is a
friend of him and excellent guitar player
, and he said "That's really really awesome, buddy. Sounds like Kalmah".
And after that he started to create melodies one by one. Not all of them were nice, not at all, but some nice music happened. From time to time, by the way, some of that melodies he still uses in Hyperomm tracks.
So, Tom and Anton were the perfect creative team, and they called that Soundstorm. It's absolutely wrong trying to tell Hyperomm story without Soundstorm, cuz if there were no Soundstorm, Hyperomm would never would have come to the light.
They've been inspired by Children Of Bodom, Sonata Arctica, Kalmah, Secret Sphere, In Flames, playing power metal and mixing that with finnish melodic death, and that was AWESOME. They really managed that stuff as a musicians, they played live "Kissing the shadows" by CoB, Full Moon by Sonata Arctica and so on.
Soundstorm Were:
Alex Savinykh – Clean vocals
Anton Trubin - Harsh Vocals and Guitar
Artem Ustiantsev – Guitar
Anatoly Zhdanov – Drums
Roma Vtorov – Bass
Anna Pavlyuk – Keyboards
Since they've created a lot of music for Soundstom (not only Anton, but most part were him's for sure), but they didn't recorded much. Especially during 2005-2008.
There was another time, when everyone left, but Anatoly and Anton tried to change the style, and that was second life of the band, They've been influenced by lots of stuff starting The Mars Volta and Incubus and finishing by the bands like The Dillinger Escape Plan and Between the Buried and Me. And here came another very important man – Kostya Korotaev. He really pushed Anton musical borders wider, made him see how interesting one can play riffs and so on.
What do you need to play music? You need musical instruments, you have to do some recordings, well, you need MONEY. So, Anton had to find a job. He was lucky, and he've got position of sound engineer on FM radio station. He really liked that, cuz that let him keep in touch with the music itself. 4 years have passed, and maybe he still had that job if not for salary. Absolutely uncompetitive, so he found another thing that made me interested: motion design and graphics…!
He tried to keep Soundstorm, but career took over. He moved to Moscow, and RIP Soundstorm (2003-2013).
So, yes, he still feel remorse about that band, he's the only person who have been there from its birth till its death. Despite it was unknown out of Barnaul, but it's very personal.
So, Hyperomm. That's new level, new stage. This is where fused of Anton creativity: as composer and musician, as designer and sound engineer. And Hyperomm emerged. He just plugged his guitar and started.
During the first track recording, he didn't even mean to create new project, didn't think about name and logo, he just started to create and record. He found old "guitar pro stuff", got very very excited and the only thing came to his mind: "I HAVE TO RECORD THAT".
Hyperomm actually is his favorite finnish melodic death stuff. He got once facebook comment regarding his EP: "that's a cool mix of Children Of Bodom and Lamb Of God!" Cool, right? He liked that comparison also.
And there was a reason he mentioned a lot of people in that story. Alex Savinykh (soundstorm vocals) gave him the name Hyperomm itself. And the're gonna records some new stuff with Artem again, so he really hope to hear his guitar soon. Anatoly and Roma consult him with the drums. And of course, Kostya also gives him advices. One more name needs to be here – Max Kokarev, great musician and sound engineer. Anton always ask for his point of view. So, Hyperomm is not so one man band, you see.
After releases of their debut EP ...Death (2016), in July 19, 2016 he releases his new Single called "A Presentiment", that is the first Single of his debut Full-Length Album "
From Nothing to Eternity
" released on February 1st, 2017.
Formed In: 2016
Staus: Active
Years Active: 2016-Present
LINE UP
Anton Trubin - Everything
Location: Moscow, Russia
Genre: Melodic Death Metal
Current Label: Unsigned/Independent
Booking/Press Contact: hyperomm@gmail.com
Telephone:

+7 916 391 25 84
Facebook: https://www.facebook.com/hyperomm
Bandcamp: http://hyperomm.bandcamp.com
Instagram: http://www.instagram.com/hyperomm_official
Soundcloud: https://soundcloud.com/hyperomm
Reverbnation: https://www.reverbnation.com/hyperomm
From Nothing to Eternity (Full-Length Album - 2017)
Released February 1, 2017
Credits
Guitars, Keys, Sampling, Drums sampling - Anton Trubin
Recording, Mixing, Mastering - Anton Trubin
Cover Art - Anton Trubin
Famale voice in (1) - Maria Fayershteyn
Guitar solo in (6) - Artoym Ustyantsev